WHAT IS THE MAQUI BERRY?
MAQUI BERRY THE MOST POWERFUL ANTIOXIDANT SUPERFRUIT IN THE WORLD
7 TIMES MORE ANTIOX POWER THAN ACAI AND 9 TIMES MORE THAN GOJI
Source: US department of agriculture ORAC databasebase, May 2010
Maqui (Aristotelia chilensis) is a native berry that only grows in the wild forest of the South of Chile, this berry has been consumed from ancient times by indigenous peoples.
Maqui berry is considered to be the most powerful antioxidant superfruit for being rich in polyphenols, anthocyanins, delphinidin, and other nutrients, helping against the neutralization of free radicals, which are agents that age the body, thereby protecting us against the changes associated with aging.
Chile
CHILE is an exceptional bioclimatic island with aggressive climate conditions for plants to grow in.
The composition of Chilean rich soils and unique climatic conditions between the Andes Mountains and the Humboldt Current are also stressed by high levels of sun radiation and large temperature variations.
Plants that grow under these conditions contain unique phytochemical profiles, that are not found in any other place in the planet. These plants contain 30%-40% more health-bearing molecules than similar ones cultivated in other lands.
SOURCE: INTA : National Institution of Foods and Technology, CHILE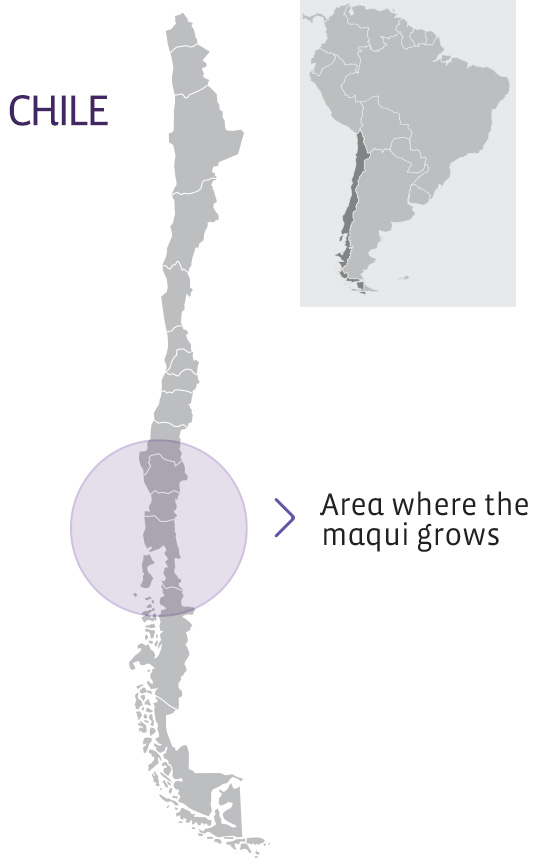 Previously mentioned characteristics, combined with unique harvesting and natural bioprocessing procedures maintain the purity of both plants and fruits.
The climate improves the quality of fruits, resulting in a larger percentage of molecules that are beneficial for health. Our special indigenous fruits are carefully selected and harvested by families of collectors from wild forests and fields, following old traditions that has been conserved by centuries.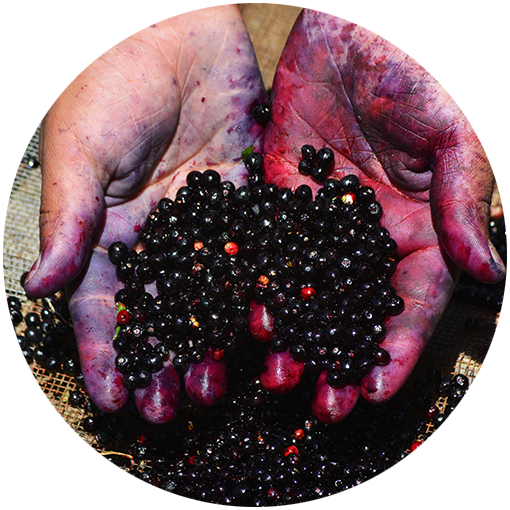 Harvested by hand, by families of collectors – Old tra dition from the Mapuche Communities
Maqui berry grows as a evergreen bush, it can reach 3 to 4 meters of high.
It is a comestible berry, with a delicious dry flavor. Its color is bright deep purple and its size is between 4 and 5 mm of diameter.
A team of local collectors is responsible for harvesting the fruit, using friendly techniques with the environment and maximizing the collection process.
It is harvested between November and March, accordingly its regional localization.
Maqui
The HIGHEST ANTIOXIDANT SUPERFRUIT IN THE WORLD
The Secret of the Chilean Native Forest
7 times more antioxidant capacity than ACAI berry and 9 times more than GOJI berry
Source: ORAC (Oxygen Radical Absor bance Capacity) Database of the US Department of Agriculture of the USA. May, 2010.
Differentiating Capacity
Maqui berry exhibits the highest ORAC capacity among berries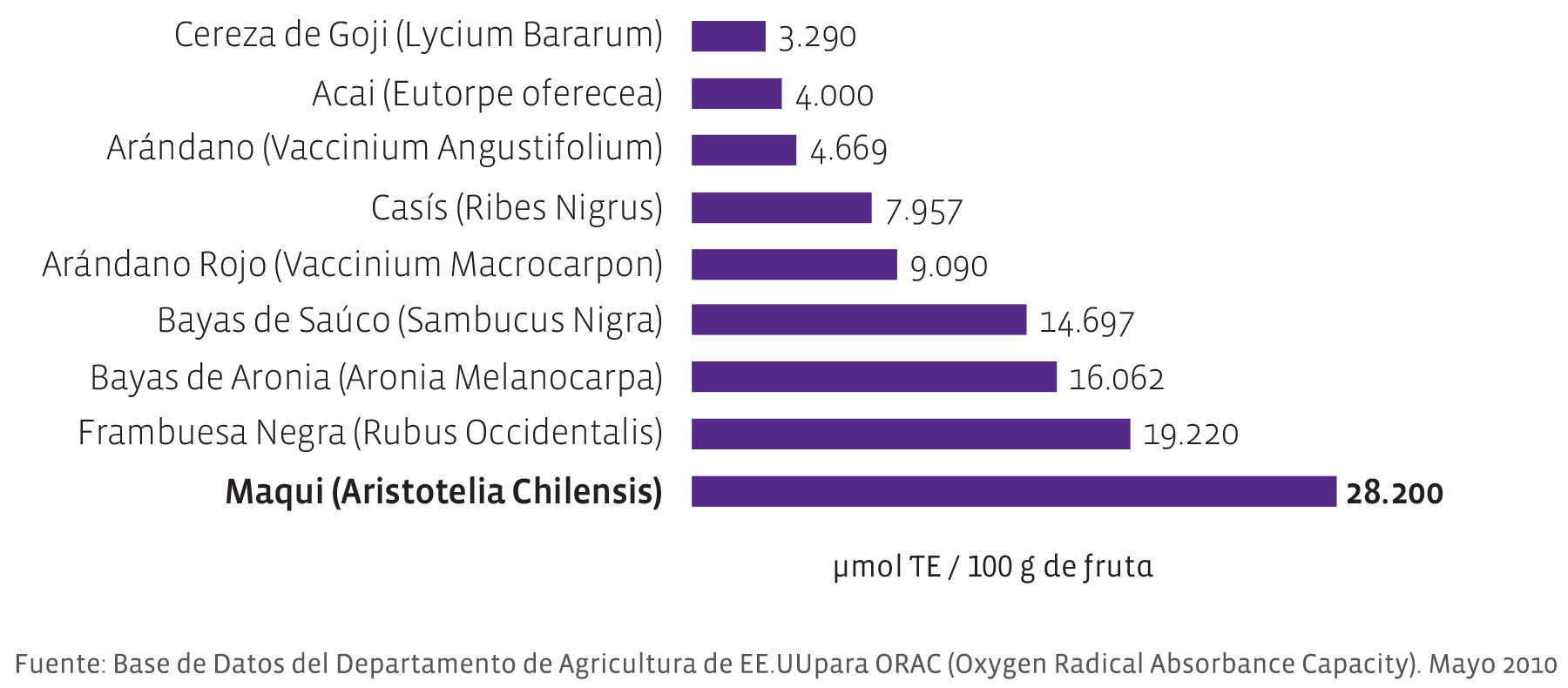 What are the benefits of the Maqui Berry?
Apart from being an excellent antioxidant, Maqui berry is rich in polyphenols, anthocyanins, and other nutrients, helping in the neutralization of free radicals (agents that age the body), protecting us against the changes associated with aging, and preventing the development of cancer.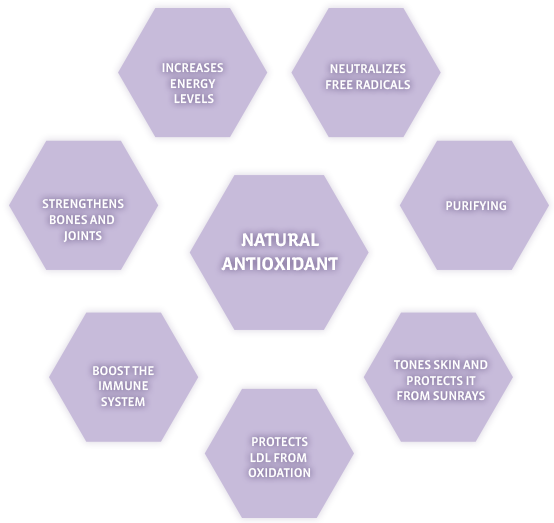 Maqui berry as powerful source for powerful polyphenols
A published comparative study has revealed that Maqui berry is the richest berry in flavonoids content and correspondingly has the highest antioxidant power of all berries ever tested.
www.ncbi.nlm.nih.gov/pubmed/124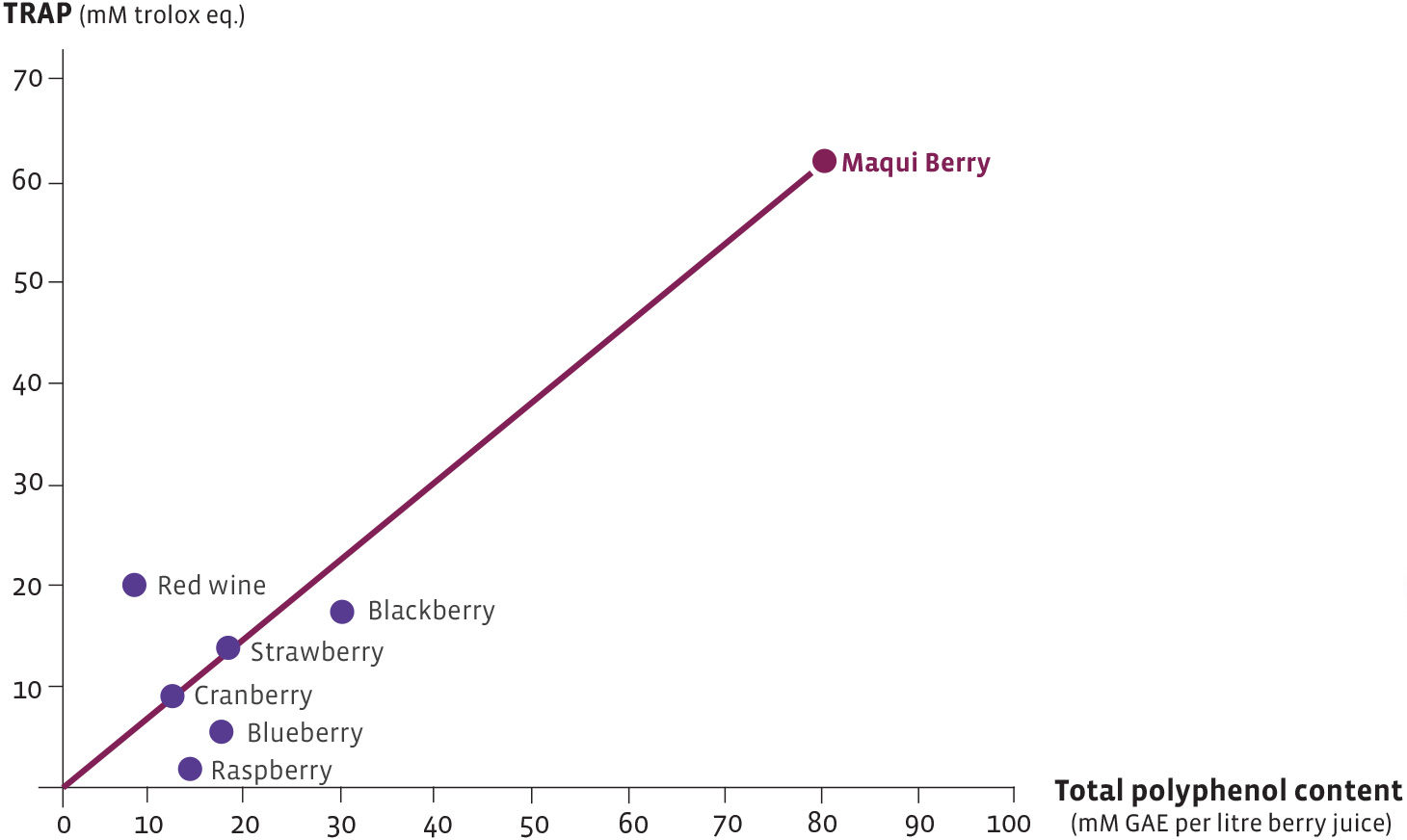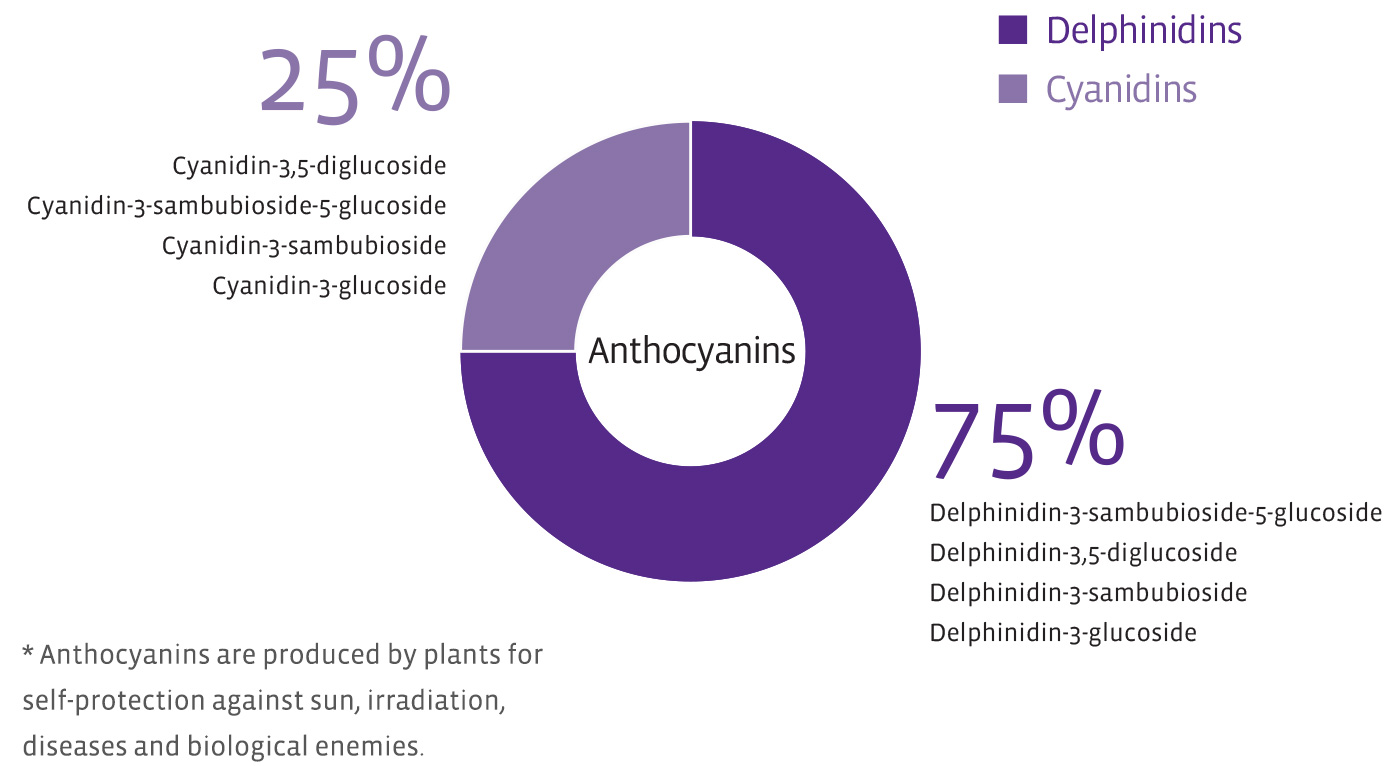 Maqui berry has the highest content of Delphinidins of all known berries
Maqui berry is one of the most anthocyanins power-packed berries from all fruits and berries for supplemental consumption, being its anthocyanins composition 25% of Cyanidins and 75% of Delphinidins. Both Anthocyanins and Delphinidins have been extensively researched, evidencing its multiples beneficial health effects.